ricky moore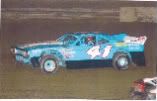 Joined: 27 Feb 2003
Posts: 1092
Location: shelbyville tn
Posted: Mon Mar 24, 2014 3:52 pm

Post subject: Sad News - Bobby Waltrip

---

Thoughts and prayers with the Waltrip family. Bobby Waltrip (middle brother) of Darrell and Michael passed away yesterday. May he rest in peace.

Robert Lynn "Bobby" Waltrip, middle brother of NASCAR Hall of Fame driver and Fox Sports announcer Darrell Waltrip and NASCAR team owner and fellow Fox Sports announcer Michael Waltrip, died Sunday. It's unknown when Darrell and Michael Waltrip were informed of their brother's death. Both worked the Fox Sports' Sunday afternoon telecast of the NASCAR Sprint Cup Auto Club 400 race at Auto Club Speedway in Fontana, Calif. Michael, the youngest of the three Waltrip brothers, confirmed his brother's passing on Twitter Sunday evening. Moments later, Darrell, the oldest Waltrip brother, also paid homage to brother Bobby. Bobby Waltrip grew up in Owensboro, Ky., but had lived in the Concord, N.C. area the last 25 years. While he never followed his brothers into NASCAR as a race car driver - although he did work for Darrell in the late 1980s and early 1990s when the latter formed his own Winston Cup team - Bobby became a major force in the world of go-kart racing, first as a successful kart racer himself and later as an announcer and promoter in the sport in both the World Karting Association (WKA) and the American Karting Association (AKRA). He was believed to be in his early 60s at the time of his death.(NBC Sports)(3-24-2014)
_________________
Stock car racing and the South go together like fried chicken and Pepsi!